When communication on Snapchat stumbles on life's péripéties, misunderstandings can occur. In an attempt to seek clarity or uncover potential secrets, someone might resort to checking someone else's phone as a way to bridge the communication gap. Taking the phone itself requires a lot of effort and bravery. So, another solution is using a Snapchat spy app.
Since choosing a decent app can be a challenge, we've prepared a list of 5 best apps on the market. Each of them has its strong side, so it's for you to determine which one will best meet your needs.
What Determines a Good Snapchat Spy App?
According to Statista, as of June 2023, the mobile messenger app with the highest number of downloads worldwide was WhatsApp, followed by Telegram with a significant number of downloads, and Snapchat, a social and video messaging app, in third place. It can be concluded from the data that WhatsApp, Telegram, and Snapchat are the three most downloaded messenger apps globally.
Therefore, it is reasonable to conclude that users need to be vigilant about the potential dangers of the proliferation of messaging apps. The anonymity offered by these apps can embolden cyberbullying and harassment, impacting the mental and emotional well-being of users, particularly younger ones. So when protecting them on the messenger apps, it is justifiable to assume that you'll need to choose a free Snapchat spy app without target phone.
When looking for a satisfactory app, there are a few of them worth your attention. Choosing the right program is crucial, which is why it's important to be aware of the key features to look for. To help you out, we've compiled a list of essential elements that good Snapchat spy apps should have. A top-notch Snapchat spy app should:
operate covertly without alerting the user being monitored;
offer comprehensive monitoring capabilities specifically tailored for Snapchat;
be intuitive and require minimal technical expertise;
be compatible with various devices and operating systems, ensuring that it can be used across different platforms;
have timely updates to ensure that you receive information promptly.
So, we hope that next time, you'll have a better idea of where to look when choosing an app. In the meantime, let us provide you with more information about them.
1. mSpy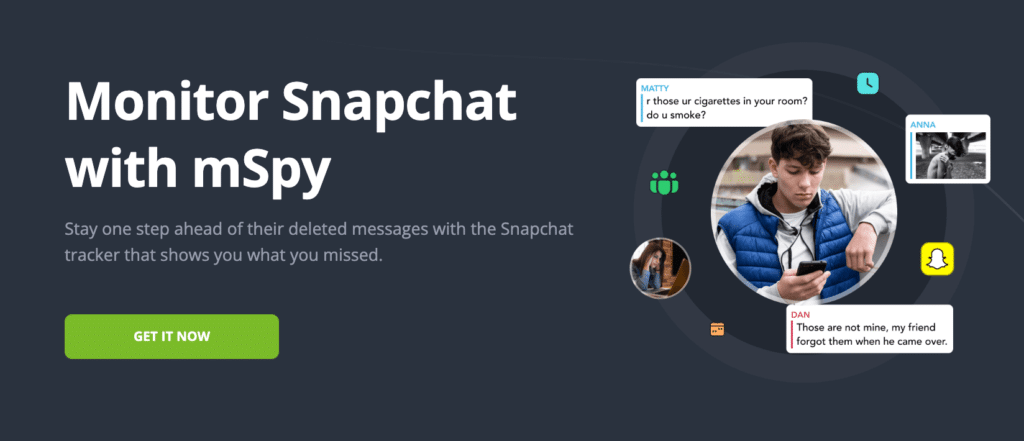 This Snapchat spy app includes tracking sent and received messages, media files, stories, and friends lists. Like any other app, mSpy has its advantages and disadvantages, we'll cover them shortly to introduce you to this program.
The list of advantages of mSpy includes:
mSpy is working in the background, remaining undetectable to the target individual;
its effortless navigation and quick access to monitored information;
this robust spy app enables the monitoring of images, videos, and other media shared on Snapchat;
while Snapchat is a focus, this versatile spy app offers broader monitoring capabilities, including text messages, call logs, and web browsing history;
mSpy offers a solution for an iPhone and Android OS.
The list of disadvantages of mSpy includes:
mSpy is not free, but it's important to consider the value and resources that go into creating a program for spying on people's Snapchat.
Overall, mSpy is a good choice because the app uses encryption and secures data transmission methods to protect the monitored information from unauthorized access.
2. Haqerra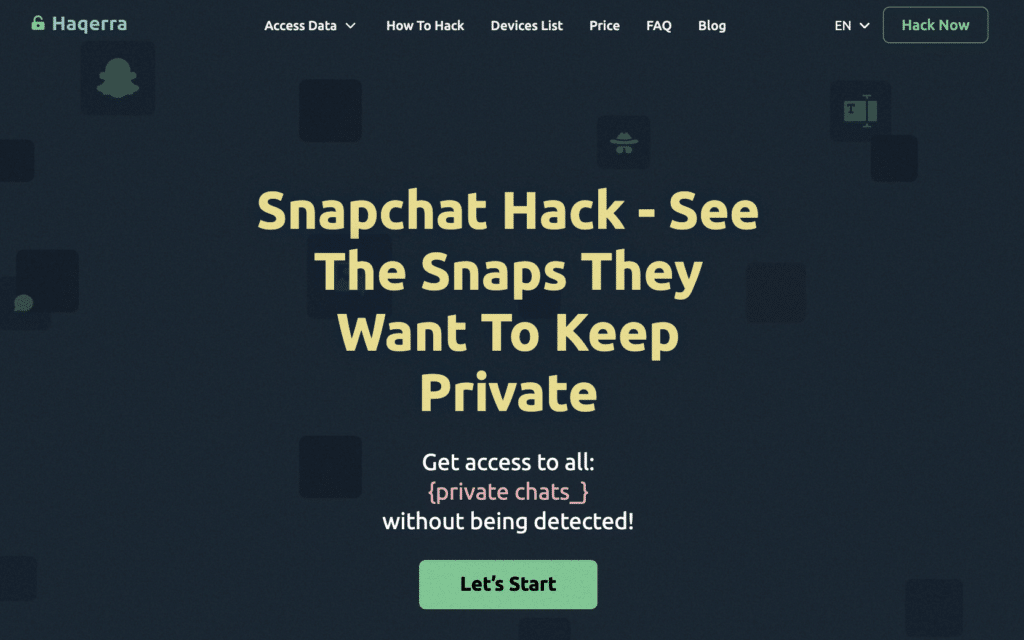 Another Snapchat spy app for iPhone and Android is Haqerra. Take some time to explore its features and weigh the positives and negatives before making a decision.
Haqerra has unique benefits that may suit your needs:
it allows remote access, enabling you to monitor Snapchat activities from your own devices without needing physical access to the target device;
Haqerra's pricing structure is transparent, with no hidden fees, so you will have a clear understanding of what they are paying for;
the app doesn't affect the device's overall performance because it effectively runs in the background and doesn't cause battery drain.
Also, this app may have some drawbacks:
Haqerra does not allow you to record calls and access remote camera activation;
the app requires rooting if you don't have the person's password or email address of Apple ID or Android account.
It's important to note that every app has its pros and cons, and such balancing of quality features may be the reason for you to choose this exact product.
3. Moniterro
This Snapchat spying app is the third one on the list that can monitor Snapchat's personal communications, including text messages, calls, and social media interactions.
Moniterro offers a range of benefits, making it a popular choice for those concerned about Snapchat interactions:
the user will get access to all the media shared on Snapchat including videos, photos, and messages;
it is a reputable app that adheres to legal guidelines and ensures that its use is compliant with relevant laws and regulations;
Moniterro allows users to discreetly record calls, which could be useful in cases where evidence needs to be kept.
However, it's essential to weigh the potential disadvantages:
Moniterro gives access to a lot of valuable info only after the jailbreak.
We recommend carefully considering these advantages and disadvantages before using Moniterro and always prioritizing transparency, consent, and ethical considerations when looking for a solution how to spy on someones Snapchat.
4. Eyezy
Eyezy is another high-quality Android and iPhone spyware that allows users to monitor Snapchat of your children, employees, or partners.
The advantages of Eyezy are numerous:
first of all, the application is very adaptable to your needs: it offers monitoring solutions for most of the messaging apps, including Snapchat, geolocation, keylogger, incoming and outgoing calls, etc.;
you can choose to receive alerts when suspicious or dangerous words are used in messages sent by their children;
Eyezy is marketed and intended for ethical and legal use, primarily for the purpose of ensuring child safety and responsible internet use.
There are a very few disadvantages to weigh:
this app doesn't have a free trial period, but we advise you to follow the current discounts and get the program for a fair price.
Eyezy offers an effective way to keep track of digital communications on Snapchat, and should therefore be considered by anyone who wants to stay informed about the people around them.
5. Spynger.com
Spynger is another app that allows tracking those Snaps people exchange. Using it, you can promptly identify suspicious activities and ensure your dear person's well-being.
If you are interested in this program, learn about the upsides it has:
this application offers a complete entry to the conversations, status posts, shared images, and emojis on Snapchat and across an array of over 16 well-known messaging applications;
Spynger surveils keyboard inputs, enabling the viewing of account logins and secret texts, and other content through its distinctive keylogging feature;
there is reliable customer support in case you encounter technical issues or need assistance with the app's functionalities;
there are a lot of positive user reviews and a reputable track record that indicates the reliability and effectiveness of the Spynger.
Nevertheless, it's vital to consider the potential downsides:
You'll need to install the app manually consulting with a specialist from Spynger customer care.
Such software can be considered a type of spyware, as they allow remote access to a user's device to diagnose and troubleshoot issues on Snapchat or any other app. However, the app constantly states that it is meant to provide assistance and support, not to exploit the user's data.
Behind the Scenes: How Snapchat Spy Apps Work
Snapchat can be a safe app when users take appropriate precautions, set privacy settings, and engage responsibly. It's essential for users, especially younger ones, to understand the potential risks, especially with the new artificial intelligence chatbot.
According to The Washington Post, Snapchat has introduced a chatbot called My AI that acts as a friend, but the conversations turn wildly inappropriate. For example, it advised on how to mask the alcohol smell for the 15-year-old birthday party ideas query. Also, in this test run, the bot gave advice to a 12-year-old girlfriend to plan a surprise trip with her 30-year-old boyfriend.
People are worried and don't want to be treated as guinea pigs for powerful AI technology. Stating this, it's important to let you know that Snapchat spy apps are designed to monitor and track potentially harmful activities on a target user's Snapchat account. They usually work as follows:
The spy app records activities on the target's Snapchat account, such as sent and received messages, images, videos, and interactions with others.
The collected data is sent to a remote server controlled by the spy app provider. This allows the user (such as a parent or guardian) to access the information from their own device.
Users can log in to a web-based dashboard provided by the app to view the data. This dashboard presents the collected Snapchat activities in an organized manner.
Rest assured that the programmers have worked hard to ensure that the app is user-friendly and easy to navigate. So, you shouldn't worry about getting started with any of these Snap trackers because they are easy to use and download on a phone. Moreover, they have similar installation processes:
go to the app's website and create a user account to be able to access the monitoring application;
make a payment to gain access, it's necessary for an app to continue improving;
tap the "Install" button, you might need to confirm the password or use your fingerprint/face recognition for security;
once the application is installed, you can start monitoring the activities from your own personal control panel.
It's important to note that relying solely on spy apps without open communication can neglect digital literacy and responsible behavior on Snapchat. Healthy communication, transparency, and addressing concerns directly are more constructive ways to navigate challenges within private relationships. Do not misuse apps for stalking, harassment, or gathering information for malicious purposes. In the wrong hands, the data collected can cause significant harm.
Can I Find Free Apps to Spy on Snapchat?
Opting for a free Snapchat spy app is a risky move. Such apps can often be scams that compromise your privacy and security. Remember, no technology is truly free; hidden costs or compromised data may await. It's safer to invest in reputable, paid solutions to ensure ethical and effective monitoring.
Conclusion
In the ever-evolving landscape of social media, Snapchat remains global favorite, captivating users young and old. The recent introduction of an AI chatbot within the platform has sparked both intrigue and concern among users and vigilant parents. While the convenience of technology enhances our lives, it's crucial to tread carefully.
The existence of Snapchat spy apps underscores the need for responsible usage and protective measures. We've chosen 5 of the best ones that offer a high-quality degree of monitoring. You only have to weigh which is best for you with a balanced technology approach while remaining vigilant guardians of our digital spaces.