We've all been curious at one point or another. "What are they texting?" It's a question that lingers in our minds, especially in an era dominated by messaging apps and social platforms. While it's essential to respect privacy, there might be situations where you genuinely need to know how to read text messages from another phone without them knowing for free.
Maybe you're a concerned parent or a doubtful partner. In this article, we'll explore ways to read SMS from another phone, so be ready to take notes, and let's go!
Can I Read Someone's Text Messages without Their Phone Free?
Absolutely. In the vast world of technology, multiple tools and methods allow you to access someone's text messages without requiring physical access to their phone. Some of these are simple, while others involve being a bit more tech-savvy.
Most U.S. adults manage to get less than half the answers right on a digital literacy test, with many finding cybersecurity and privacy topics particularly challenging. Knowing that we can conclude that technological advancements have made it possible to access and monitor text messages much easier than anybody could think of.
Innovative Methods for Achieving Success
Let's dive into the topic of how to read someone's text messages without their phone free with the methods provided below.
Call Your Phone Carrier for Help
Seems too obvious, right? In some cases, especially if you're the account holder, carriers might assist in recovering text messages.
Phone carriers are organizations that provide mobile telecommunication services to users, and can read someone's text messages without installing software on their phone. However, there are legal, ethical, and technical considerations:
Firstly, in many countries, including the U.S., it's illegal for phone carriers to monitor or access the content of text messages without a valid reason, such as a court order or warrant. Laws like the Electronic Communications Privacy Act (ECPA) in the U.S. protect the privacy of electronic communications, and carriers must comply with these regulations.
Secondly, while carriers handle the routing of text messages, they don't necessarily store the content of every SMS for extended periods. Many carriers may retain message content for a limited time, often for mere days, while others may not store the content at all, only retaining metadata (like time, date, sender, receiver, etc.).
Finally, in certain scenarios, such as criminal investigations or national security concerns, law enforcement agencies might obtain legal authorization to access message content or metadata. In such cases, phone carriers are legally obligated to assist and provide the required data.
In conclusion, while phone carriers technically have the infrastructure that could allow them to access text message content, they are bound by strict laws and ethical guidelines that prevent unwarranted invasions of privacy.
Use iCloud Backup
If the person uses an iPhone, there's a chance you can back up their iCloud data, including texts. It is a popular choice, since according to official data, the U.S. had a total of over 120 million iPhone users, making up close to 49% of the nation's smartphone enthusiasts.
For example, if you seek an answer to "How can I read my boyfriend's text messages without touching his phone?", by logging into their iCloud account, you can access his backups. Remember, this requires his iCloud credentials.
Here's how to create an iCloud backup:
Make sure your device is connected to a Wi-Fi network;
Tap on your Apple ID profile (it's usually at the very top with your name and profile picture);
Once you're in your Apple ID menu, tap on "iCloud.";
After scrolling down, tap on "Manage Storage" (for some devices/versions it might just be "Storage");
Tap on "Backup";
You'll see a list of your devices that are associated with the Apple ID. Tap on the name of the device you're currently using;
Tap on "Back Up Now." Ensure you remain linked to your Wi-Fi network until the procedure is finished.
Once the backup completes, you can see the details of your last backup by going to "Settings", then "iCloud", then "iCloud Storage", and "Backup". Here, you should see the date and size of your last backup which you can open and read outgoing and incoming text messages.
Use SIM Card Readers
A little old-school but still viable. SIM card readers can extract data, including messages, from a SIM card. This method, however, will only display messages saved on the SIM and not the phone's internal memory.
Here's a step-by-step guide on how to do it:
First, you'll need a SIM card reader. This is a device that allows your computer to read and interface with the SIM card. Ensure that the SIM card reader you purchase is compatible with your specific SIM card size (standard, micro, or nano).
Secondly, many SIM card readers come with free proprietary software that you'll need to install on your computer. This software will help you access and view the data stored on the SIM card.
Carefully insert the SIM card into the SIM card reader.
Plug the SIM card reader into your computer, usually via USB.
Open the software that comes with the reader or any other compatible SIM card data extraction software. The software should detect the SIM card and show its contents.
Navigate through the software interface to find the messages or other data you want to extract. Often, you'll find options to view and save contacts, SMS messages, and other data stored on the SIM card.
Once you've found the data you're interested in, follow the software's prompts or use the available options to save or export the data to your computer.
Those are all the details you need. Although, there are some factors to take into consideration: technology can be complicated, and there's always a risk of data loss. It's a good idea to back up any crucial data before attempting to extract or modify information on any storage medium. Also, it's best to ensure you have the necessary permissions and are acting within the law.
Stealth Mode: Use SMS Tracking Apps
When seeking to understand someone's communication without direct access to their device, SMS tracking apps stand out as the most effective, user-friendly, and discreet solution. SMS trackers can stealthily monitor and relay messages from the target phone.
These apps are designed to capture and relay text messages (and often other types of data) from a device to an external interface, enabling the user to read them secretly. We'll tell more about them in the next paragraphs.
Top Picks: Leading SMS Monitoring Apps Rating
Now, that you understand what are SMS tracking apps, we will provide you with a comprehensive evaluation of the applications, including a detailed analysis of their respective ratings, as well as our expert opinion on the strengths and weaknesses of each individual app.
Leading the pack is Moniterro with a 5-star rating. Known for its stealth and robust features, it offers an intuitive interface that even non-techies can navigate. Quality is the main feature that convinced us to focus on this application.
Moniterro is a spy app that offers a comparable range of features that work great to read other people's SMS. It is an application prepared for the two most popular operating systems on mobile devices – Android and iOS. It will easily read messages sent from and to phones with these systems.
Other advantages of Moniterro are:
works in "background" mode,
the ability to see messages from other applications,
advanced capabilities,
many functions that facilitate spying or parental control.
The Moniterro app is also very easy to use. As its user, you do not need to have knowledge in the field of computer science – a simple interface and clear instructions certainly solve many problems that users of other programs have to deal with.
Moniterro is also very hard to spot. By running in the background, the phone user will not be able to see its icon on the desktop. It will also not see that the application is running. For this reason, Moniterro – at least in our opinion – deserves the first place in this article. Quality goes hand in hand with possibilities, which is why many users praise the potential of the application.
mSpy is not far behind with a 5-star rating as well. As a popular choice among many, it guarantees reliability and efficiency. Its seamless background operation ensures complete invisibility.
If you are looking for a reliable solution that has gained recognition in the eyes of many users, mSpy is one of the best candidates. It is a program that has a lot of possibilities in the field of tracking. It allows, among others:
SMS tracking,
screen recording, so you won't miss any message,
viewing messages from other programs, such as popular social media platforms.
Of course, this is only a small part of what mSpy can do. It is also an application that is very difficult to detect on the target phone. Even advanced users often cannot cope with this task. However, keep in mind that tracking people without their consent is illegal. However, if you have such permission, read messages with mSpy!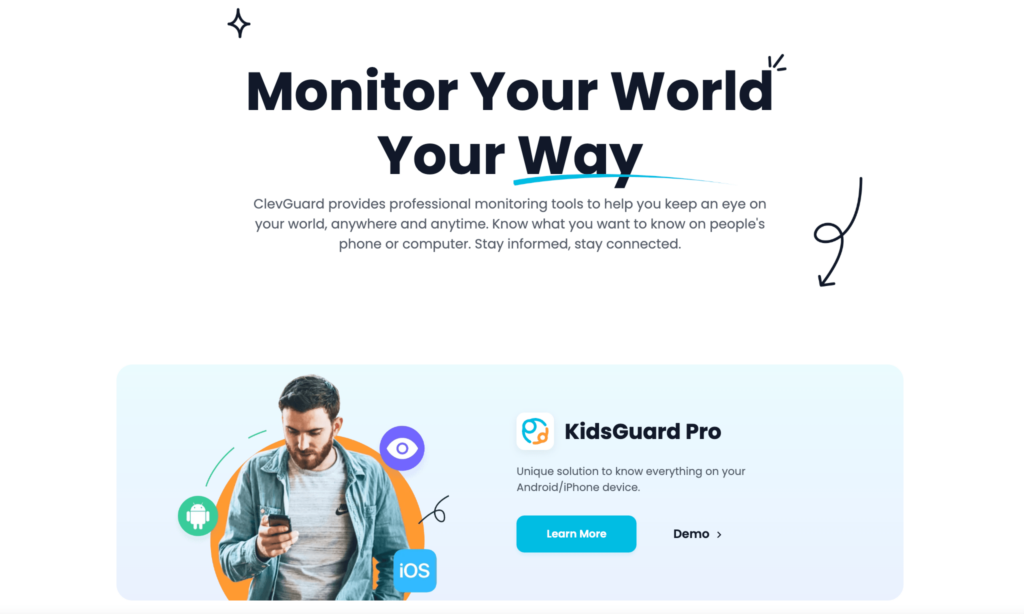 ClevGuard offers a mix of features, including SMS tracking and app monitoring. A 4-star rating can be explained by the fact that users mention a steeper learning curve but commend its functionality.
ClevGuard is a program for reading other people's SMS, but not only. The manufacturer mainly points to the aspect related to parental control – it must be admitted that the functions offered actually allow you to monitor and manage children's online activity on a large scale.
You can test the ClevGuard application on the manufacturer's website. In a separate tab, you will find a demo version that will provide you with a lot of knowledge about the application's interface, its capabilities, and how it works.
Flexispy ★★★☆☆
Flexispy has its strengths and weaknesses which is why it has 3 stars in our rating. While it offers a decent range of features, some users have pointed out occasional glitches.
With FlexiSPY it is possible to monitor SMS conversations, and, in addition, it is an app with many other remote monitoring features. FlexiSPY's features are quite comprehensive, but its subscription plans are among the most expensive, making it affordable to very few.
uMobix ★★★☆☆
While uMobix offers a range of tracking features, its slightly lower 3-star rating is due to a less intuitive user interface and occasional delays in message relay.
uMobix is another parental control and monitoring app that offers you features like GPS location tracking, call and text message log, social media monitoring, and photo gallery access. Its main drawback is the difficulty of its installation and the overly complex management of its control panel.
Spyera ★★☆☆☆
Spyera has a 2-star rating because it offers basic functionalities, but it may lack the advanced features its competitors provide. Still, it might be worth a shot if you're looking for something straightforward.
It is an application that is able to monitor a great many activities of the target user. Even its current location, sent messages or browsing history will not be hidden. The product should work properly with desktop computers, laptops, phones, and tablets. The manufacturer took care of compatibility with popular operating systems.
Hoverwatch ★★☆☆☆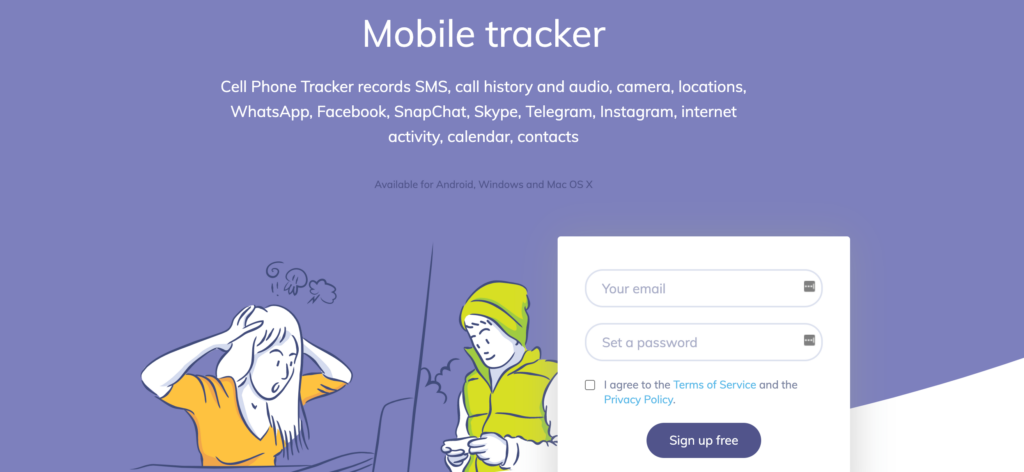 Among the alternatives to spy on SMS is Hoverwatch with 2 stars in our rating. This is an app that allows monitoring of text messages, calls, GPS location, and social networks.
Despite the fact that Hoverwatch works adequately, the high prices of its plans make most of its users opt for cheaper alternatives. It's important to also consider other factors, such as the overall user experience and any technical issues that may affect the app's performance.
And this one rounds up our list.
Final Thoughts on SMS Tracking
Throughout this article, we've delved into a variety of techniques: seeking assistance from your phone carrier, leveraging iCloud backup functionalities, utilizing SIM card readers, and adopting SMS trackers. Among these, SMS tracking apps stand out as the most efficient and user-friendly approach to discreetly accessing another phone's messages. Moreover, our comprehensive app ratings highlighted the best players in the market like Moniterro or mSpy.