Apple has a 16% share of the mobile phone market, which is considerable. If you need to know where an iPhone is and you don't have the iCloud credentials linked to it, it can be difficult to do so. However, there are other methods on how to track an iPhone without iCloud credentials being known. In this article, we'll go over three ways. Read on to find out more.
Using Google Maps Location History
One of the easiest ways to track an iPhone without iCloud is by having Google Maps location enabled.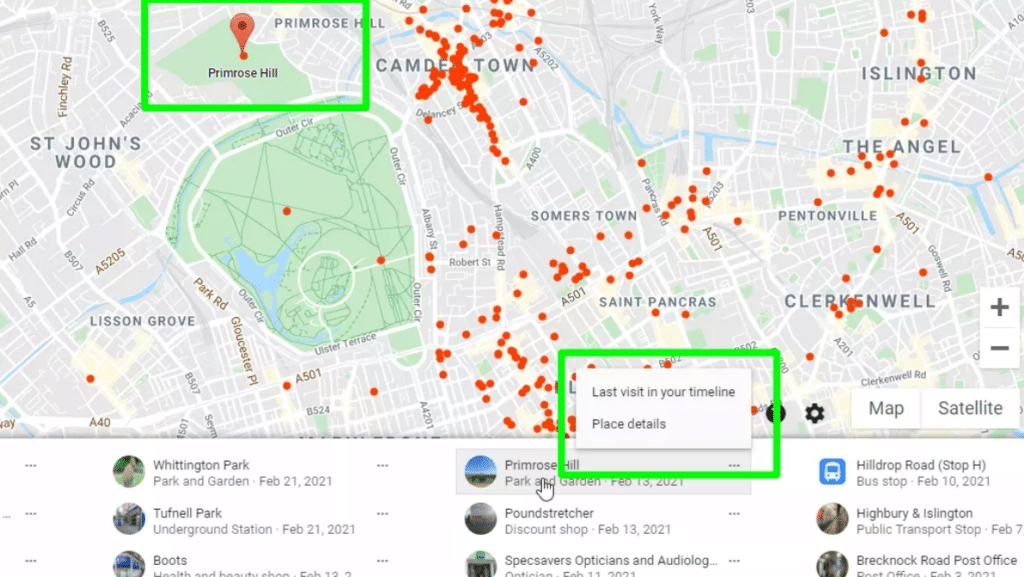 Provided the phone in question has Google Maps installed and the person is logged in to their Google account, you'll be able to see where the phone has been. You can do this by going to timeline.google.com. This will have a list and map of all the locations the phone has been to. It's not always 100% accurate and it might have missing journeys, but it's pretty good, nonetheless.
Here's how to enable it:
Download Google Maps to the phone and sign in.
Tap your profile picture (or the default avatar if you don't have a profile photo). This is located next to the 'search' area.
Click on 'settings'.
Under 'account settings,' click on 'personal content.'
Now, under 'location settings' make sure that you switch it to 'always'. If you can't see 'always' visible, open up the settings, then select 'location' and select 'always'.
When you're back within Google Maps, look at the location settings. If your location history is turned off, swipe the screen to turn it on.
Contact Your Carrier for Help
If you need to track a lost phone, it's no good trying to install Google Maps now – although it would be a good idea to check! This does leave another option, but it might not work so be warned.
If you contact your carrier, they might well try to find your phone by triangulating its position using GPS and its contact with cell phone towers. This obviously requires the phone to be switched on with cellular data enabled. However, many phone carriers require a subpoena to be able to divulge such information and so they're not very likely to give it away freely.
If you do try this method, it's a good idea to know the iPhone's IMEI number. This is the International Mobile Equipment Identity number, which comprises 15 unique digits to identify a phone. The carrier probably knows your IMEI anyway, but it can speed things up to connect to it if you already know it.
Install Third-Party Apps like Scannero
There is another option too – once again, this requires you not to have lost the phone! There are several third-party apps you can use that have GPS tracking in the background to enable you to check up on its location. You can use them also to see historical location information. The best thing about this is that it doesn't rely on knowing your iCloud credentials, which is handy.
You can also try tracking the cell phone by its mobile number too. Software like Scannero.io allows you to enter a number online to locate it. This works by sending an SMS to the phone containing a link. Once the link is accessed, it sends GPS data to the software so you can see where the phone was at the time the link was accessed. Unfortunately, this won't give you historical data. It also relies on the person whose phone it is opening the message and clicking on the link.
Is It Possible to Track an iPhone Without the Owner Knowing?
Lots of people search the web for how to secretly track an iPhone without iCloud credentials and there are many ways to do this as we've listed above. This is a good idea for worried parents who might want to know where their children's phones are. This could be because their children frequently lose their phones or because they want to track their children who are constantly attached to their devices!
You can also use the in-built Apple 'Find My' application to locate a device. This is pre-installed so you can simply open it to find the location. Here are the steps to follow:
Open 'Find My' on any iOS device.
Log into your account with your Apple ID.
Scroll down to 'My Devices'
Click on the device you're looking to monitor.
You'll see a selection of options. This includes erase this device, directions, notify when found, play sound, and mark as lost.
Choose 'directions' and see where the phone is in real time.
Is It Legal to Track Someone's iPhone Without Their Knowing?
There are many reasons why you might want to track someone's iPhone without their consent. Perhaps you're worried about your child being bullied or going to the wrong parts of town, maybe you're concerned your partner is having an affair, or perhaps you want to know where your employees are by tracking a work phone. Not all reasons for wanting to track a phone are legal or ethical. Here are the situations where this is allowed:
If you are protecting your child: If your child is under the age of 18 and they live with you, you can install and use monitoring software without telling them. Be sure to check your own local laws as there might be differences.
If you want to monitor employees using work phones: If your employees have work phones, you might want to monitor them for a range of reasons. This is allowed when employees sign agreements that include this stipulation as they agree by signing that they give permission to be tracked. This is because the phone is company property.
If you have their consent: You can track any other person if they give you consent to do so. Having explicit consent means you can use monitoring apps or other ways to track their phone. This means they know you're doing it and don't have a problem with it.
Is It Possible to Track an iPhone Using the Phone Number?
Many people wanting to know how to track an iPhone without iCloud credentials find themselves wondering if they can track an iPhone using the phone number only. As we've seen from Scannero.io, this is possible. Besides Scannero, you can find other similar third-party software tools that allow you to track a phone in this way. However, they're all very similar and will require permission or necessitate the clicking of a link sent to the device by SMS. Unfortunately, you're unlikely to be able to track an iPhone by phone number if it's lost. That is, unless you contact the carrier (but they might not divulge the information without a subpoena).
Can I Track a Stolen iPhone?
Yes. There are numerous ways to track a stolen iPhone, including the 'Find My' feature or Google Maps timeline, if this is enabled. You can also try the Scannero.io approach. You only need the phone number, your email address, and a password to get going.
Here's how it works:
Type a message to the person who has the phone – this could be anything you want.
Type in the reward that you will give them if they return the device.
Provide your name. You can even link your Facebook account, so they know who you are.
Enter an alternative number they can contact you on (since you don't have your phone or number!)
Enter your email address as an alternative way for them to contact you.
This will then send the information and a link to the person who has your phone. However, if someone has stolen the phone and is still in possession of it, it's unlikely that they'll be the sort of person to want to return it—unless you make the reward substantial. Even then, they might not be inclined to do so if it reveals their identity, and you get the police involved.
Final Thoughts
If you find yourself wondering how to track an iPhone without Apple ID or iCloud, you hopefully have some solutions to try. Which solution you choose depends on your situation. There is no need to enable Google Maps location timeline if you've already lost possession of the phone and are trying to locate it! Whatever your reasons for needing to track a phone, good luck!